Total service
Our service goes beyond building excellent industrial cleaning ovens. We help our customers with every cleaning problem. This forms the starting point for total service, including yield analyses, comparing purchasing a cleaning oven versus outsourcing, engineering, construction, programming, training, maintenance, upgrade, repairs, etc.
With comparative analyses, our industrial cleaning ovens always end up with the lowest total cost of ownership.
Close cooperation with Thermo-Clean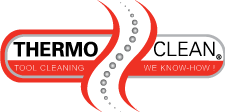 One of the greatest strengths of Strunz lies in the close relationship with our sister company Thermo-Clean. They specialise in industrial cleaning and paint stripping services. This means that we also intensively use the industrial cleaning ovens that we develop within our group of companies. In this way, we build up unique expertise and we can constantly improve the performance of our installations.
We use the partnership with Thermo-Clean to the fullest to perform tests, to give demonstrations to interested customers and to visit similar installations when starting engineering projects. With Thermo-Clean, our customers also get access to a worldwide network of cleaning and paint stripping companies. This network offers fast and efficient solutions for our customers, for example if they are struggling with a lack of capacity, scheduling long-term maintenance, facing exceptional dimensions or contaminations, and having updates done on the installation.